Stromberg Drywall & Panel Truck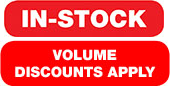 F.O.B. Oregon Warehouse
drywall cart, panel cart, lumber yard cart, hardware store cart, sheetrock cart, home improvement cart
Designed to make moving drywall, sheetrock panel and cut panel easy – the platform position places the load-bearing burden on the truck, not the driver.
Deck: 40"Wx12-1/4"L
Capacity: 1,600 or 1,800 lbs.
All swivel casters
Uses: drywall cart, panel cart, lumber yard cart, hardware store cart, sheet rock cart, home improvement cart.
Choose the right wheel for your application:

Mold-On Rubber
Conditions: Concrete
Weights: Low, Standard, High and Extreme
Impact: Low, Medium and High

Polyurethane
Conditions: Concrete, Carpet, Gravel and Grass
Weights: Low
Impact: Low and Medium

Other Wheels Available:

Phenolic
Balloon Cushion
Flat Free