Dutro Brawny Brute Vending Machine Hand Truck 1888
Manufacturer: Dutro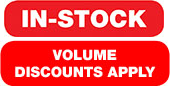 F.O.B. Utah or Oregon Warehouse

Built to last for years and designed to transport large (more than 62" tall) vending machines. Large rear wheels pivot back to handle big loads and the one belt retract system makes your job easier. Includes overhead strap and arm.

Unique Feature: For extra security, the ratchet arm attaches to the load. The arm
grabs firmly at the top front of the load and pulls in and down. The minimum load
height is 62-1/2".
Tilt-back angle of truck is 60°.
Capacity: 1,600 lbs.
Weight: 112.6 lbs.
10" and 5" mold-on rubber wheels.
Toe Plate Dimensions: 4-1/2" clear x 24" wide x 1/4" thick.
Overall Dimensions: 72"Hx24-1/8"Wx16-1/2" L.
Optional lower belly strap is available.

Important Note: The lock supplied with the Brawny Brute is only for breaking over the load when stopped on a level surface.

Warning: It is not to be used as a brake for stopping, slowing and retaining the loaded or unloaded unit on either flat or sloped surfaces.