Dutro All-Purpose Drum Dolly 3002
Manufacturer: Dutro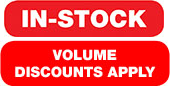 F.O.B. Utah or Oregon Warehouse
Volume Discounts Apply:
10+ - SAVE 5%

Designed specifically for plastic or irregular shaped drums. Chain secures drums of different diameter and top configurations.
Capacity: 1,000 lbs.
Weight: 63.6 lbs.
10"x2-1/2 x1" mold-on rubber wheels.
Toe Plate Dimensions: 4" clear x 15" wide x 1/4" thick
Overall Dimensions: 60-7/8"Hx24-7/8"Wx17-3/4"L.
If you need a large quantity of this product, call us at 1-800-338-1382 for additional bulk discounts!