Dutro 6-Wheel Heavy-Duty Tubular 75 Inch Long Stocking Cart SM18-75
Manufacturer: Dutro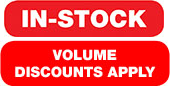 F.O.B. Utah or Oregon Warehouse

Transporting long, heavy loads is easy with this capable cart in your hands. High-end casters provide smooth rolling under heavy loads. The 6-wheel tilt design makes it easy to turn even in tight warehouse spaces or grocery store back rooms.
Rugged and super durable all-welded construction and

1" fourteen-gauge steel tubing

Capacity: 1,400 lbs.

Weight: 75 lbs.
5" gray non-marking swivel casters and 8"x1-5/8"x5/8" mold-on rubber wheels
Overall Dimensions: 39-3/4"Hx18"Wx75"L
Standard color is Dutro Blue. Other colors available on request – please contact Material Flow for details.
If you need a large quantity of this product, call us at 1-800-338-1382 for additional bulk discounts!