Dutro 3-Way Convertible Steel Hand Truck 120
Manufacturer: Dutro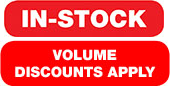 F.O.B. Oregon or Utah Warehouse
Versatile, affordable and easy to use – it's like three trucks for the price of one!
Rotate locking mechanism, lean handle backwards and lower the deck and rear casters to snap into 45° position
Release spring loaded pin to shift in to platform position
Capacity: 530-800 lbs. Varies according to wheel type and truck position
Two 8" wheels and two 4" swivel pin casters
Weight: 59.8 lbs.
Toe Plate dimensions: 9" clear x 14" wide x 1/4" thick
Overall Dimensions: 51-3/8"Hx20"W
Choose the right wheel for your application:

Mold-On Rubber
Conditions: Concrete
Weights: Low, Standard, High and Extreme
Impact: Low, Medium and High

Pneumatic
Conditions: Concrete, Carpet, Gravel and Grass
Weights: Low
Impact: Low and Medium

Solid Rubber
Conditions: Concrete and Carpet
Weights: Low and Standard
Impact: Low
If you need a large quantity of this product, call us at 1-800-338-1382 for additional bulk discounts!