48PMP-HD Steel Delivery Hand Truck
Manufacturer: Dutro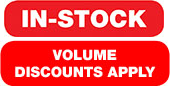 F.O.B. Utah or Oregon Warehouse
Capacity: 900 lbs.
Weight: 33.8 lbs.
Overall Dimensions: 46-5/8"H x 17-5/8"W x 15-3/4"L.
Toe Plate Dimensions: 7" clear x 13" wide x 1/4" thick.
Mold-On Rubber
Conditions: Concrete
Weights: Low, Standard, High and Extreme.
Impact: Low, Medium and High.
If you need a large quantity of this product, call us at 1-800-338-1382 for additional bulk discounts!